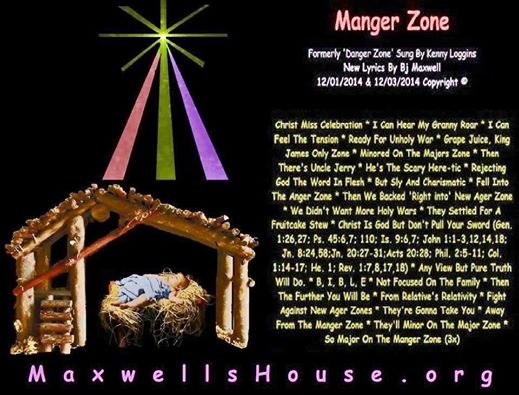 New Lyrics By Bj Maxwell, Sung By Little Billy
Formerly 'Danger Zone' Sung By Kenny Loggins


New Lyrics By Bj Maxwell

Idea For Christian Classic Intro By Cynthia Maxwell
Sing Karaoke To The New Lyrics Below:

Just Hold Down The Shift Key, Click Here
, Minimize And Sing Joyfully.
To Hear Little Billy Sing This, Scroll To The End Of The Song And Click Link.
New Title:
Now
The Manger Zone

Christ Miss Celebration

I Can Hear My Granny Roar

I Can Feel The Tension
Ready For Unholy War


Grape Juice, King James Only Zone




Minored On The Majors Zone

Then There's Uncle Jerry
He's The Scary Here-tic

Rejecting God The Word In Flesh
But Sly And Charismatic


Fell Into The Anger Zone
Then We Backed
'Right into' New Ager Zone



We Didn't Want More Holy Wars
They Settled For A Fruitcake Stew
Christ Is God But Don't Pull Your Sword
(
Gen. 1:26,27; Ps. 45:6,7; 110; Is. 9:6,7; John 1:1-3,12,14,18; Jn. 8:24,58;Jn. 20:27-31;Acts 20:28; Phil. 2:5-11; Col. 1:14-17; He. 1; Rev. 1:7,8,17,18
)

Any View But Pure Truth Will Do.


Instrumental

B, I, B, L, E
Not Focused On The Family
Then The Further You Will Be

From Relative's Relativity


Fight Against New Ager Zones

They're Gonna Take You
Away From The Manger Zone
They'll Minor On The Major Zone
So Major On The Manger Zone
3x

To Hear Little Billy Sing This, Which Were His Own Experiences, Hold Down The Shift Key, Click Here, Minimize and Turn Up Your Volume.


12/01/2014; 12/03/2014
New Lyrics By Bj Maxwell
Copyright ©
Important Teachings That Are Affected By Errors In The KJV:
Pro KJV Article By Kinney:
"One self appointed Bible critic and unbeliever in the inerrancy of ANY Bible, who really has no clue what he is talking about, has this to say about these verses in the King James Bible.
Billy Jack Maxwell posts:
'The KJV Translates 'epi' As In The Right Hand Or Forehead, The Modern Translations Translate It As 'On' Which Is Correct. The Word For 'Mark' In Revelation Is 'Charagma' Which Means Etching Or Tatoo, Which Would Make More Sense As 'On' Not In. So The KJV Is Wrong And The Majority Of Modern Translations Are Correct. ...'
Here are just a few of the many places where the various Bible versions DO translate the Greek work epi as "IN" (End Of Article Quote)
Will Kinney Apparently Doesn't Understand That Two Or More Wrongs Don't Make A Right. Just Because You Can Find Other Translations That Translate A Word Wrong, This Doesn't Make The KJV Right. Funny, That In The Past Kinney Only Used Modern Translations To Say They Are Wrong And The KJV Is Correct, But This Time He's Using Modern Translations To Show Similarity And That This Must Mean His KJV Is Correct.
Article:
Matthew 24:30 - "coming IN the clouds of heaven"
(Wycliffe 1395, Geneva Bible, New Life Version 1969, Living Bible 1971, God's First Truth 1999, The Tomson N.T. 2002, The Evidence Bible 2003, The Resurrection Life New Testament 2005 (Vince Garcia), Jubilee Bible 2010, Conservative Bible 2011, Common English Bible 2011, The Work of God's Children Illustrated Bible 2011, Hebraic Transliteration Scripture 2010, World English Bible 2012,
Here Kinney Is Watering Down Important Teachings By Sticking To His Errant KJV. He Is Supporting The False Teaching Of Preterism By Insisting That Jesus Here Will Be Coming IN, Not ON The Literal Clouds By Being Invisible. Preterists Believe JC Came In The Clouds In A.D. 70, But He Just Wasn't Visible. No Wonder, If He Came In The Clouds, Not On Them. We Just Missed Seeing One Of The Most Important Events In Human History Because JC Was In The Clouds Not On Them And That It All Happened In A.D. 70.
Kinney Refuses To Consider Context Along With The Definition Of Words.
"27 For as lightning that comes from the east is VISIBLE even in the west, so will be the coming of the Son of Man." (Matt. 24:27)
"And then all the peoples of the earth will mourn WHEN THEY SEE the Son of Man coming ON the clouds of heaven, with power and great glory." (Matt. 24:30)
How Will They See Him And How Is He 'Visible', If He's IN Not ON The Clouds?
Kinney, Thinks We Define A Word By Removing It From Its Context.
Other Scriptures Confirm The Distinction Between The Rapture And The Second Coming Partially Based On The Fact That One Will Be Visible The Other One Will Not.
Other Scriptures That Tell Us That His Second Coming Will Be VISIBLE.
"Look, he is coming WITH (Meta) the clouds," and "EVERY EYE WILL SEE HIM (Visible), even those who pierced him"; and all peoples on earth "will mourn because of him." So shall it be! Amen." (Rev. 1:7)
Another Important Teaching Watered Down By The KJV Is About The Mark Of The Beast. What Is It And What Is The Nature Of This Mark.
Is It Something That Needs To Be Scanned Or Something Clearly VISIBLE To Anyone?
Kinney's Article:
Revelation 13:16 and 14:9 with Revelation 20:4 - "IN" or "ON"?
Revelation 13:16 KJB - "And he causeth all, both small and great, rich and poor, free and bond, to receive A MARK IN their right hand or IN their foreheads".
Revelation 14:9 KJB - "…If any man worship the beast and his image, and receive his MARK IN his forehead, or IN his hand, the same shall drink of the wine of the wrath of God…"
Revelation 20:4 "And I saw thrones, and they sat upon them: and judgment was given unto them: and I saw the souls of them that were beheaded for the witness of Jesus and for the word of God, and which had not worshipped the beast, neither his image, neither had received his MARK UPON their foreheads, or IN their hands; and they lived and reigned with Christ a thousand years." (End Of Kinney's Quote)
When I Say I Got A Tatoo, I Don't Say I Got A Tatoo 'IN' My Arm, I Say I Got A Tatoo 'ON' My Arm. The Mark Of The Beast Is Charagma, In Greek Which Means A Tatoo, Etching, Scratching.
This Tatoo Will Be Visible, Which Also Means It Will Be Harder To Disguise The Fact That You Don't Have One, If You Become A Believer During Jacob's Trouble. This Is Important Information For Those That Will Be There During The Tribulation.
The Kinney Quotes That Say 'Mark' Charagma Was Likened To A Snake's Bite, Can Only Be Found Online At Pro KJV Sites, By Those That Cannot Provide A Link To The Actual Quote Or Can't Find A Bible Verse That Confirms Such.
Kinney's Article:
"Matthew 14:8 and 11 "John Baptist's head IN a charger" (KJV)
A Charger Is A Platter, So Does It Make More Sense To Say 'head IN a charger' or 'On a charger'
Of Course It Makes More Sense To Say 'On A Charger'.
Article:
Matthew 21:19 "when he saw a fig tree IN the way"
(Tyndale 1534, The Great Bible 1540, Bishops' Bible 1568, Geneva Bible, Mace N.T. 1729, Whiston's N.T. 1745, Worsley Version 1770, Wesley's N.T. 1790, Webster's Translation 1833, Etheridge Translation 1849, Murdock Translation 1852, Darby 1890, Weymouth 1912, God's First Truth 1999, The Tomson N.T. 2002, The Evidence Bible 2003, Jubilee Bible 2010, Hebraic Transliteration Scripture 2010, Conservative Bible 2011.
So Will Kinney Tries To Change The Whole Gist Of The Story With His Errant KJV By Suggesting That A Lazy JC Cursed The Fig Tree Because It Was In His Way Rather Than 'ON the way.'
And I Thought Jesus Cursed It Because It Wasn't Bearing Fruit. (Matthew 21)
The Context Helps Define Epi As 'On' Here.
Kinney's Article:
Matthew 28:18 "All power is given unto me in heaven and IN earth."
(Wycliffe, Tyndale 1534, Coverdale, the Great Bible 1540, Matthew's Bible 1549, Geneva Bible, Mace N.T., Wesley Version 1790, God's First Truth 1999, The Tomson N.T. 2002, The Evidence Bible 2003, Jubilee Bible 2010, the Hebraic Transliteration Scripture 2011, is given to me in Shamayim and IN eretz.", BRG Bible 2012.
This One Made Me Laugh, Because Kinney's Making My Case For Me. Notice He Puts In CAPS, The Second 'IN' But Not The First One. The First 'In' Is This Verse Is 'Ev'In The Greek While The Second 'In' Is 'Epi' In The Greek Which Tells You That Kinney Knew This And Chose To Pull The Wool Over Our Eyes In Order To Support His False Theory That The KJV Is Without Error. If Jesus Meant 'In' Earth Why Didn't He Just Use The Same Greek Word That He Used For 'In' Heaven Earlier In The Same Verse?
Now Kinney Provides Minor Decorations For This Tasty Cake:
Article:
"The Greek word epi is also translated as IN in such verses as:
Luke 5:18 "men brought IN a bed a man"
Lying On My Bed Makes More Sense Than Lying In My Bed.
Article:
"Luke 6:17 "and stood IN the plain"
Standing ON The Plain Makes Sense, Standing IN The Plain Does Not, Unless The Plain Is Really A Plane. De Plane, De Plane... (Tatoo)
Article:
Colossians 1:16 "and that are IN earth"
ON The Earth Makes More Sense, Unless You're Suggesting That They Are Stuck In The Ground Or In Hell.
Article:
"Revelation 2:17 "IN the stone a new name written"
ON The Stone Would Tell Us It's Visible, While IN Would Tell Us That We Would Need A Special Sixth Sense To Know What That Name Is Inside The Stone.
Kinney's Article:
Revelation 7:3 "servants of God IN their foreheads"
There's A Difference Between Being Sealed In Your Forehead And ON Your Forehead. 'ON' Tells Us That It's Visible, Not Something That Has To Be Scanned Or X Rayed First.
It Should Be Obvious At This Point That The KJV Translators And Their Defenders Forgot And Forget To Consider The Context Of A Particular Word, When Determining How It Should Be Translated.
This Is Irrefutable Proof That The KJV Is A Beautiful And Inspiring Translation But Not Inerrant And The Two Or Three Witness Rule Should Be In Effect.
"By The Mouth Of Two Or Three Witnesses A Word Shall Be Established."-Validated, Interpreted And Translated. (Throughout The Bible In Verse And Deed)
(Numbers 35:30;Deut 17:6;Deut 19:15 ;Hebrews 10:28; 2 Cor. 13:1;1 Tim 5:19)
The KJV Has It's Imperfections Just Like The Other Translations. In Fact Most Translations But One (KJV Hides The Body Of Jesus Too) Of The Old Testament Have Hidden The Body Of Jesus In A Very Important Messianic Prophecy.
Here's The Fulfillment Of That Messianic Prophecy In The New Testament That You Can't Find The Prophecy For In Any OT Translation, Not Even In The KJV. Only One OT Translation Speaks Of The Body Of Jesus.
Here's Its NT Fulfillment:
"Therefore, when Christ came into the world, he said: "Sacrifice and offering you did not desire, BUT A BODY YOU PREPARED FOR ME; 6 with burnt offerings and sin offerings you were not pleased. 7 Then I said, 'Here I am--it is written about me in the scroll -- I have come to do your will, O God.' "8 First he said, "Sacrifices and offerings, burnt offerings (Holokotoma-Holocaust) and sin offerings you did not desire, nor were you pleased with them" (although the law required them to be made) (Hebrews 10)
Can You Guess Which OT Translation Includes The Body Of Jesus?
Here's A Hint: It's Not The KJV
The Greek Septuagint, Which Is The Greek Translation Of Hebrew Texts Older Than The Maz Text Still Has, 'A Body Thou Has Prepared For Me' With The Greek Word For Burnt Sacrifice, Which Is Where They Got The Word HOLOCAUST From.
Here Is A Photo Of Psalm 40 In The Septuagint Where 'A Body Thou Hast Prepared' Is Still In This Prophecy Spoken Of Later As Fulfilled, In Hebrews Ten.
Remember To Copy And Paste Links Into Address Box, If The Comments Section Doesn't Allow For Fully Functioning Links.
ccel.org/ccel/brenton/lxx/Page_721.html
The Jewish People In Reality Were Given A Way By God Out Of The Holocaust/Holokotoma/Burnt Offering, Still Mentioned In The Greek Septuagint And Hebrews Ten Of The NT.
The Jewish Counter Missionaries Removed 'The Body' From The Masoretic Text.
Check Out Verse Sixff Of Psalm 40. Don't Worry This Page Is In Greek And English Here. Also Look For σῶμα For 'body' In the Greek Column, verse six Of Chapter Forty.
The KJV Hid The Body And Did The Jewish Counter Missionaries A Favor.
=====================================================================================
I Wrote A Song About My Childhood Experiences. Most KJOnly Folks Couldn't Care Less If Someone Is A Heretic As Long As They Believe That The King James Is The Only Translation That Is Inspired By God And The Only One They Use. Will Kinney Spends No Time Preaching The Essentials But Spends Most Of His Time Preaching The King James ONLY Gospel.
"If God permits men to freely make copies of His inspired Word, and to translate His Word (as we will show that He does), so that thousands, millions, even billions of men, women, and children can read about Him for themselves and in their own language, THEN THOSE WHO FORBID THIS CONTINUED DISSEMINATION OF SCRIPTURE ESTABLISH THEMSELVES AS AN AUTHORITY ABOVE GOD HIMSELF.
...
If we can show, however, that God desires men to use translations of his Word into other languages, even when more accurate originals are readily available, we will demonstrate that THE KING JAMES ONLY (KJO) MOVEMENT IS IN OPPOSITION TO THE AUTHORITY OF GOD. We also will show that the KJO movement opposes central claims of the King James translators themselves regarding their work, and that it opposes much of the actual translation of those KJ translators, the very ones to whom they attribute divine infallibility. In this way the KJO camp MAKES AN IDOL OUT OF A TEXT AND OUT OF THEIR OWN SELF- ASSERTED AUTHORITY." (Bob Enyart Will Duffy)
I Was Raised In An Environment Where During Relative Get Togethers At Christ-Miss We Would All Major On The Minors And Minor On The Majors. Grandma Would Put All Her Emphasis On King James Only While Neglecting To Effectively Oppose The Uncle Who Denied The Deity Of Christ. The Result Being Is That Most Of Them Became New Agers At Christ Miss.