Thanks To My Wife Who's Been By My Side, Believed In And Loved Me, Our Divine Vision The Whole Time And Put My Lyrics On Photos To Leave Lasting And Immediate Impressions That Cannot Be Forgotten.
To My Parents Who Got Us The Job We Have That Allows Us To Do This And Encouraging Me In My Book.

To Bobby My Bro Who Gave Me My First Computer And Acoustic Guitar That I Use For Some Of These Rewrites.

Now If I Could Only Get My Parents, Siblings And Relatives To See The Value In And Benefit From What My Wife And I Now Have To Offer, We'd Have An Actual Relationship With Them.

It's More Blessed To Give And Receive
When I Was A Kid I Was Physically Abused. Every Once In A While My Dad Would Beat The Living Daylights Out Of Me. Sometimes When I Didn't Throw The Paper Right On The Paper Route He Had As A District Manager, For The Denver Post, Another Time While He Was 'Teaching' Me How To Drive Stick Shift. Every Time I Made A Mistake Shifting He Would Strike Me With His Fist. I Didn't Learn Stick Shift Until Years Later When A Woman Let Me Go Out Driving With Her Car To Learn On My Own. One Christmas While At Our Grandparents House, He Saw Me Having Too Much Fun, So He Stood Up Beat The Crap Out Of Me, In Front Of My Cousins And Then Went And Sat Down. He Did This With A Straight Face. There Were Other Times, But Those Instances Stood Out. When He Found Out The Hard Way That He Couldn't Do That Anymore, When I Fought Back, He Decided To Stop.

I Say This Because I Want My Younger Family Members To Know This Happened And That I Forgave Him. He Also Changed Later In His Life After Bouts With Cancer, Parkinson's And Another Wake Up Call For Him. I Love Him Dearly And Believe He Gave His Life To The Lord In The End, And I Want My Other Family Members To Know That We Forgive Because Christ Forgives Believers Of All Their Terrible Sins Too, And Forgiveness Benefits Us More Than The Ones We Are Forgiving. Jesus Tells Us To Forgive If We Want Forgiveness Ourselves....Forgive Us Our Debts As We Forgive Our Debtors....

Jesus Tells Us To Walk Away From Those That Don't Forgive And Don't Receive What We Have To Say, Here.


While Playing A Bible Trivia Game With 'Mom' And My Wife, While 'Dad' Was Sitting On His Bed Listening To Us Play, A Trivia Question Was Asked About What True Family Was According To The Bible.
The Scripture Had Previously Been Posted On Dads Refrigerator Months Before By Cynthia And I, And Was Visible To All Entering Dad's Assisted Living Space. (Matt. 12:46-50)
Mom Didn't Know The Answer, And Dad Blurted Out, Those That Do The Will Of God!

He Was Right And He Understood What Jesus Said About Real Family. It's Too Bad That People Don't Know And Also Believe And Practice This Simple Truth. Toward The End Of His Life, Cynthia And I Had Our Best Conversations With Dad While He Was At The Nursing Home. We Will See You Soon Dad.
This Is Family
Hold Down The Shift Key, Click Here, Then Minimize To Hear Singing With New Lyrics Below
New And Improved Lyrics By Bj Maxwell
Thankyou Lord For This Gift
Feel Free To Post Unaltered Anywhere.
Formerly 'We Are Family' Sung By Sister Sledge And Written By Andrew Logan, Bernard Edwards, Nile Rogers And Mike More.
Old Lyrics In ' '
New Lyrics In Black
Links In Green
This Is Family
New Lyrics:
This Is Family
Those That Truly Follow J.C.
(Matt 12:46-50pp -- Mk 3:31-35; Lk 8:19-21)
This Is Family
They're The Ones That Listen And Heed
This Is Family
Living B,I,B,L, And E.

This Is Family
Those That Freely Give And Receive.

"Everyone can see we're together"
As They Squawk On By

Still, They Say, Jesus, Here Are Your Brothers And Mother
They're Waiting Outside

"all of the people around us they say"
Focus On Family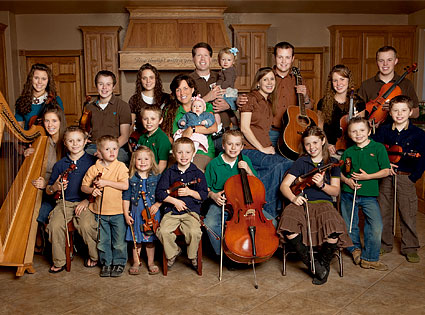 We, Just Give Them Scripture.
Matthew Twelve, 46 Thru Fifty
Matthew Twelve 46 Thru Fifty
This Is Family
Those That Truly Follow J.C.
(Matt 12:46-50pp -- Mk 3:31-35; Lk 8:19-21)
This Is Family
They're The Ones That Listen And Heed
This Is Family
Living B,I,B,L, And E.

This Is Family
Those That Freely Give And Receive.
Paul And Christ's Godly Delights,
Came From Being Focused On Heaven Not Family.
(Hebrews 12:1, 2; 1 Cor. 7)
Our Lord's In Sight

And When We Get Harassed
We're Part Of Christ's Family
So Have Faith In Christ And The Golden Rule
You'll Go Out Strong

This Is Our Bible School
This Is Family
Those That Truly Follow J.C.
(Matt 12:46-50pp -- Mk 3:31-35; Lk 8:19-21)

This Is Family
They're The Ones That Listen And Heed
This Is Family
Live The B,I,B,L, And E.
This Is Family
Those That Freely Give And Receive.

03/28/2012
03/29/2012
Jesus' Mother and Brothers 12:46-50pp -- Mk 3:31-35; Lk 8:19-21
"While Jesus was still talking to the crowd, his mother and brothers stood outside, wanting to speak to him. 47 Someone told him, "Your mother and brothers are standing outside, wanting to speak to you." 48 He replied to him, "Who is my mother, and who are my brothers?"49 Pointing to his disciples, he said, "Here are my mother and my brothers. 50 For whoever does the will of my Father in heaven is my brother and sister and mother."
~End Of Song~
New Lyrics By Bj Maxwell
03/28/2012
Copyright ©
Ready To Karaoke With The Big Boy?
Just Hold Down The Shift Key, Click Here, Then Minimize To Sing New Lyrics Above With Music.
Tribute To Dad

Commentary By BJ Maxwell II... Me
Photos Of Photos And Photos Uploaded By Cynthia, My Lovely Wife.
If You Don't Have A Sense Of Humor, You Will Not Enjoy This Tribute. I Make Fun Of Myself Below.
The Following Are Only A Few Things That Made Dad (Billy Jack Maxwell) -The Earthly Reason We Exist, Priceless In The Great Scheme Of Things.
We Choose To Think More About The Great Memories Of Dad, Not Just How His Life Ended.
Thanks To Pat And Kenneth (Dad's Brother And Wife) Who Have Been A Real Support During This Time. I Hope They And Others Are Comforted By Going Through These Great Memories With Us. Thanks Pat For Letting Me Know The News, Wouldn't Have Wanted It From Anyone Else.
We're
All
Far From Perfect But If We
A
dmit Our Sins,
B
elieve In Christ And His Sacrifice For Us And In Our Place, His Resurrection, And
C
onfess Our Many Sins We Are Saved. (
1 Corinthians 15:1-5
) Even Then We Are Far From Perfect, But We Are Forgiven.
The Bible Tells Us To Strive For The Prize.
Live And Let Christ
If We Show
No
Fruit/Obedience To Christ In Our Walks, Or Need For Him, We Never Really Were Christians (Christ Ones) In The First Place. God Wants Us To Trust And Love Him Daily. (
Revelation 3:15-20; Philippians 3:12-15
)
We're Not Perfect, But God Tells Us That We Need To Press On And Struggle To Be Like His Son.
"Not that I have already obtained all this, or have already been made perfect, but I press on to take hold of that for which Christ Jesus took hold of me. 13 Brothers, I do not consider myself yet to have taken hold of it. But one thing I do: Forgetting what is behind and straining toward what is ahead, 14 I press on toward the goal to win the prize for which God has called me heavenward in Christ Jesus. 15 All of us who are mature should take such a view of things." (Philippians 3)
Dad Was Instrumental In Creating Us, The Maxwells. He Put A High Priority On Family.
Is That A Bow Tie He Is Wearing?
If He Had Not Travelled To Colorado From Arkansas And Ma Stolen Him From The Preachers Daughter, I Might Not Exist, Existed In A Different Body, Had One Eye Or Something Like That And Not Been As Gorgeous As I (Billy Jack II) Am Now. (ROTFLOL)
If You Have Any Problems With The Pictures, Let Us Know. Cynthia Has Created A Photo Album Which Has Better Quality Pictures And Size Photos Of Dad And His Family. Click On The Photos To Get There. Make Sure To Click The Back Button, (Upper Left Of Screen) To Get Back Here.
This Picture Has Him Older And In Those Days When Big Hair Was In, So You Gots To Understand The Times He's More Well Rounded Here. Too Skinny Before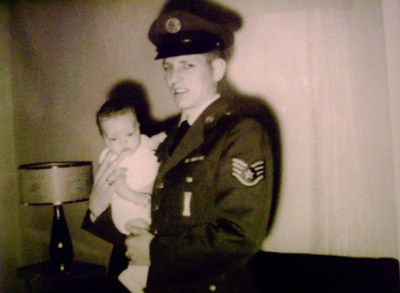 Here Dad Is Holding Me (Bj Jr.) As A Babe, I Think This Is In Armadillo Texas
When Dad Was In The Air Force. Doesn't He (Not The Armadillo) Look Like He Is Thinking, 'What Did I Get Myself Into'. I Went On To Join The Service Too, Navy That Is.
The Following You Can Only View If You're Eighteen Or Older.
C'mon Is This Necessary? Don't We Already Have Too Much Nudity On The Internet?
And
Enough Already!!
It's A Boy, Obviously.
We Will Call Him....Billy Jack II, For He Shall Wreek Havok And Cause Trouble Wherever He Goes.
No, I'm Not Jewish, That's An Operation That Every Male Baby Gets.
Here I Am Wearing The Suit Ma Made For Me. Back In The Days When Bow Ties Were In. Don't I Look Cool?
Now Aren't The Only Ones That Wear Bow Ties Black Muslims And Republican Commentators?
This Picture Has Me Next To My Little Brother In His Suit (Made By Armani, I Mean Our Mommy) Bro Looks Like He's Doing A Deniro Imitation, Saying, 'You Talkin To Me, I Don't See Anyone Else Here, You Talkin To Me? We Also Have An Cool Uncle Named Robert.
There's Dad, Holding Us Steady For The Picture, Keeping Us From Getting Too Dirty Or Getting Into A Fight.
Here's A Good One Of The Four Of Us. Dad On The Left, Bobby, Me And Mom.
Notice The Big Hair?
This Photo Is Bro Bobby On The Right With His Son Robert (Very Tall Now, Me Looking Like I'm Undercover Or Something And Dear Old Dad.
Bobby Also Has Two Daughters. Bobby Is The Hardest Worker I've Ever Seen. Very Funny When He's Being Spontaneous.
This Picture Is Of My Beautiful Wife, Who Needs To Go Somewhere And Eat Fast!, Me Looking Like Big Foot Again And Relax I'm Eating For Three-Me, Myself And I, My Ma, Not So Anorexic Looking Yet, And Dad Who Is Trying To Look Like Me With Those Shady Glasses. Imitation Is The Highest Form Of Flattery. Or Was I Imitatin Him?
This Is During Cute Cynthia's And My Wedding Reception Outside A Christian Coffeehouse.
Notice The Maxwell House Coffee Can On The Coffee Bar?
See The Connection?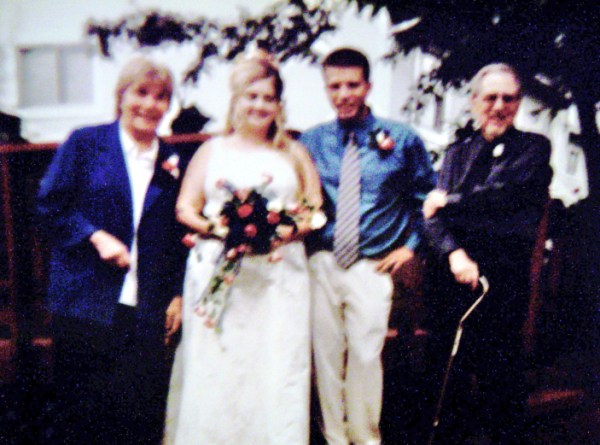 Photo Of Dad, Ma, Michael (Looking Like Red Greens Sidekick) And Tiffany At Wedding. Just Kiddin Michael.
There's Mommy Dearest On The Left (Before Her Skinny Surgery Compliments Of Dads Great Job), Michael, My Brother The Poseur, Tiffany, Michaels First Wife Good Person That Greatly Helped Him Through Difficult Times), And Dad, With His Cane, That Separates Into A Sword, Remember The Movie 'Blind Fury' With Rutger Hauer?
Dad Always Provided For His Family (Medical Care etc.), He Saw Family As The Crown Of Success. He Was A Success To Me.
Mom Went On The Speaking Circuit After Her Skinny Surgery Preaching The Dangers Of Eating Food And Frightening Buffet Goers Everywhere.
So Why Did I Talk About Us Too?
Because Dad And Ma Were Fruitful And Multiplied And The End Result Was Us, For Better And Worse.
My Wife And I Have Taken An Aquila, Priscilla Approach (Acts 18), And Are Attempting To Raise Spiritual Children Through Our Outreach At Facebook And http://MaxwellsHouse.org
"And they that be wise shall shine as the brightness of the firmament; and they that turn many to righteousness as the stars for ever and ever." (Daniel 12:3)
Unfortunately, And I.M.H.O. The Great Medical Benefits And Skinny Surgery That Helped Ma, Let Dad Down In The End Resulting In Too Many Infections, Dehydration That Could Have Been Resolved By Simply Giving Him Water, Giving Up Before All Antibiotics Were Tried, And Too Many Days Where He Was Way Too Sedated To Have Any Meaningful Conversations With His Loved Ones. Nurses With Attitude Problems, Dad Too Drugged Or Too Something To Eat, Resulting In Starving To Death, Having To Share A Room With A Screaming Maniac, The Ones In Power Not Asking Him What He Wanted.
We (My Wife And I) Have Some Strong Opinions On How Dad Died In The Nursing Home. What Hurts As Well Is, That Our Views Were Not Considered, Nor Were They Ever, By The Ones With The Legal Not Moral Authority, Prior And During His Hospice Care, Only Rejected, This Raised Our Suspicions Even Further, Whether Right Or Wrong Not Being Heard Is Nothing New To Me. Scripture Tells Us What To Do With These Kind Of Responses. We Are Of The Persusion That Dad Was Euthanized And Instead Of His Illness Making Him Unable To Eat, It Was The Drugs He Was On. Despite Vocal Objections About It We Were Ignored By The One With The Legal Power And By The Hospice Who 'Cared' For Him.
Dad Got Wiser Toward The End. Learning To Go With The Flow And Truly Loved Mom. He Would Light Up And Suddenly Become Coherent When We Called Ma On The Phone During Our Visits To Dad. Like Many Men He Didn't Always Know How To Show His Love. We (Cynthia And I) Communicated More With Him Toward The Last 12 Years Of His Life Here On Earth Than Any Other Time.
But To End With Good News, Dad Is Not Suffering Anymore, And Cynthia Heard His Profession Of Faith Before He Left Us. We Got To Say Goodbye To Him.
Lets At Least Remember The Good Things . Goodbye Dad, Until We Get To Make Some More Good Memories.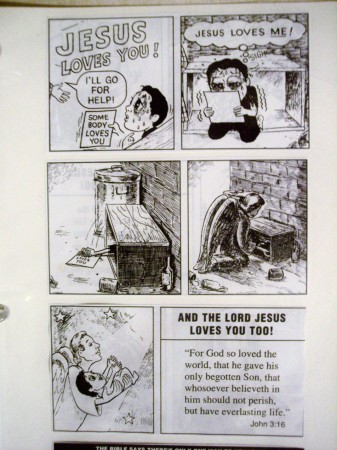 Photo Taken At The Grandview: 'If I Could Be King Of The Forest.' Cynthia Took This Picture.
Photos Of The Photos Were Taken And Uploaded By My Wife, Jill Of All Trades, Who Was The Only One (Besides God) That Knew And Believed In Who I Am As A Christ One And Helped Me Understand The Love Of God More, Through Her Love.
Kenneth, Dad's Brother Told Me That When Dad Got Cancer (Prior To His Parkinsons), Bobby And Kenneth His Brothers Came To Visit Him And Dad Asked Them To Get A Colonoscopy. Kenneth Did And They Caught Some Polyps Before He Got Cancer, Bobby Didn't And He Got Cancer And Died. I Had One Done. So Please Get A Colonoscopy.
Thanks Kenneth For Telling Me This.