He Will Stomp You
From "We Will Rock You"
New Lyrics By Bj Maxwell
Feel Free To Post Unaltered Anywhere.
About Jesus' Death, Resurrection, And Ascension And Ongoing Stomping Of His Enemies, As Prophesied In Scripture And Fulfilled In His Story And History.
Ready To Karaoke?
Hold Down Shift Key, Click
Here
, Click Play, Minimize, Then Sing New Lyrics Below.
To Hear This Sung First, Do The Above And Click
Here.
Start Right On The Ninth Double Stomp (i.e., Boom, Boom)
Crucifixion:
Jesus, You Annoyed All The Big Boys
Quoting Prophecy, Sittin Next To God Some Day
Then Blood On Yo Face
You've Been Disgraced
They Beat God's Man All Over The Place
(Ps. 22:1-19; Is. 53; Zech. 12:10ff)
'Singin'
We Will, We Will Mock You
(Psalm 22)
Will Kill, Seal With Rock You
Resurrection, Ascension, A.D. 70:
Jesus,You Arose To God's Right Hand
Psalm 2 And 110, Genny Three Fifteen
Fulfilled Prophecy
Then Bruised Your Feet
Crushing Big Heads, Se-ven-ty A.D.
(Gen. 3:15; Isaiah 1:4; Galatians 3:16,17)
Christ Said, He Will Stomp You
(Ps. 110; Acts 13:33-39; Hebrews 1:8-14)
Paul Said, We Will Stomp You
Future:
Zechariah Twelve; Psalm 16 Say
Reaching Out Your Hands, From The Grave Seeing No Decay
You Got Love On Your Face
Amazing Grace
Better Be Wise, In Christ Put Your Faith OR
He Will, Will Still Stomp You
(Unbelievers)
'We Will' Will Still Stomp You
(That's Right!!)
New Lyrics By Bj Maxwell
Copyright ©
04/01/2014; 04/05/2014
"15 And I will put enmity Between you and the woman, And between YOUR SEED AND HER SEED; He shall BRUISE ON THE HEAD, And you shall BRUISE HIM ON THE HEEL." (Genesis 3:15)
"Why are the nations in an uproar And the peoples devising a vain thing ? 2 The kings of the earth take their stand And the rulers take counsel together Against the LORD and against HIS ANOINTED, saying, 3 "Let us tear their fetters apart And cast away their cords from us!" 4 He who sits in the heavens laughs, The Lord scoffs at them. 5 Then He will speak to them in His anger And terrify them in His fury, saying, 6 "But as for Me, I have installed My King Upon Zion, My holy mountain." 7 "I will surely tell of the decree of the LORD : He said to Me, 'YOU ARE MY SON, TODAY I HAVE BEGOTTEN YOU....12 DO HOMAGE TO THE SON, that He not become angry, and YOU PERISH IN THE WAY, For His wrath may soon be kindled. How blessed are all who take refuge in Him!" (Psalm 2)
"For You WILL NOT ABANDON MY SOUL TO SHEOL; NOR will You allow Your Holy One to UNDERGO DECAY. 11 You will make known to me the path of life ; In Your presence is fullness of joy ; In Your right hand there are pleasures forever." (Psalm 16:10)
"The LORD SAYS TO MY LORD: "SIT AT MY RIGHT HAND UNTIL I MAKE YOUR ENEMIES A FOOTSTOOL FOR YOUR FEET." ....4 The LORD has sworn and will not change His mind, "YOU ARE A PRIEST FOREVER ACCORDING TO THE ORDER OF MELCHIZEDEK" 5 The Lord is at Your right hand ; HE WILL SHATTER KINGS IN THE DAY OF HIS WRATH. 6 He will judge among the nations, He will fill them with corpses, He will shatter the chief men over a broad country. 7 He will drink from the brook by the wayside ; Therefore He will lift up His head." (Psalm 110)
"I will pour out on the house of David and on the inhabitants of Jerusalem, the Spirit of grace and of supplication, so that THEY WILL LOOK ON ME WHOM THEY HAVE PIERCED; and they will mourn for Him, as one mourns for an only son, and they will weep bitterly over Him like the bitter weeping over a firstborn." (Zechariah 12:10-14)
"Every priest stands daily ministering and offering time after time the same sacrifices, which can never take away sins ; 12 but He, having offered one sacrifice for sins for all time, SAT DOWN AT THE RIGHT HAND OF GOD, 13 waiting from THAT TIME ONWARD UNTIL HIS ENEMIES BE MADE A FOOTSTOOL FOR HIS FEET." (Hebrews 10:11-13)
We Are God's Aliens
From "We Are The Champions" By Queen
New Lyrics By Bj Maxwell
Feel Free To Post Unaltered Anywhere.
About How We Follow In JC's Footsteps As Aliens And Strangers In A Strange Land.
Ready To Karaoke?
Hold Down Shift Key, Click
Here
, Click Play, Minimize, Then Sing New Lyrics Below.
We Are God's Aliens

I've Sung Their Tunes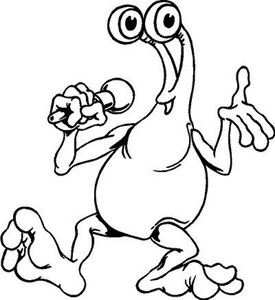 Gave Them God Rhymes

I've Preached Repentance



And Numerous Times

I've Made Mistakes

More Than A Few

'I've had ' All Of My Sins Shoved 'in my face'

But Christ Paid My Dues


(And His Love Just goes 'on and on, and on, and on') Alien Angels Singing Harmony


We Are Like Aliens , Christian

So We'll Love Like Jesus 'til the end.'




We Are Like Aliens

But We're God's Aliens
E.T. The Border



Cause We Are God's Order, In This World




I've Taken My Vow
And Here Is My Call

You Took My Blame, Misfortune 'and everything that goes with it.'

I Owe You My All

'But it's been no bed of roses'
Thorny Crown For You


You've Issued 'a challenge' to 'the whole human race'
And Most Just Refused.


(But We Keep Singing 'on and on, and on, and on') Aliens Singing Harmony

We Are God's Aliens , Christ-i-An
We Are Like Strangers In Strange Lands.

We Are Like Aliens
We Are God's Aliens
Peculiar People
'Cause we are' God's Aliens In 'The World'.

We Are God's Aliens, Christ-Ian

Then We'll Do Some Stomping In The End.
We Are Like Aliens
We Are God's Aliens
God's Purchased People



So We Are God's Aliens
New Lyrics By Bj Maxwell
Copyright ©
03/03/2015 ; 03/10/2015